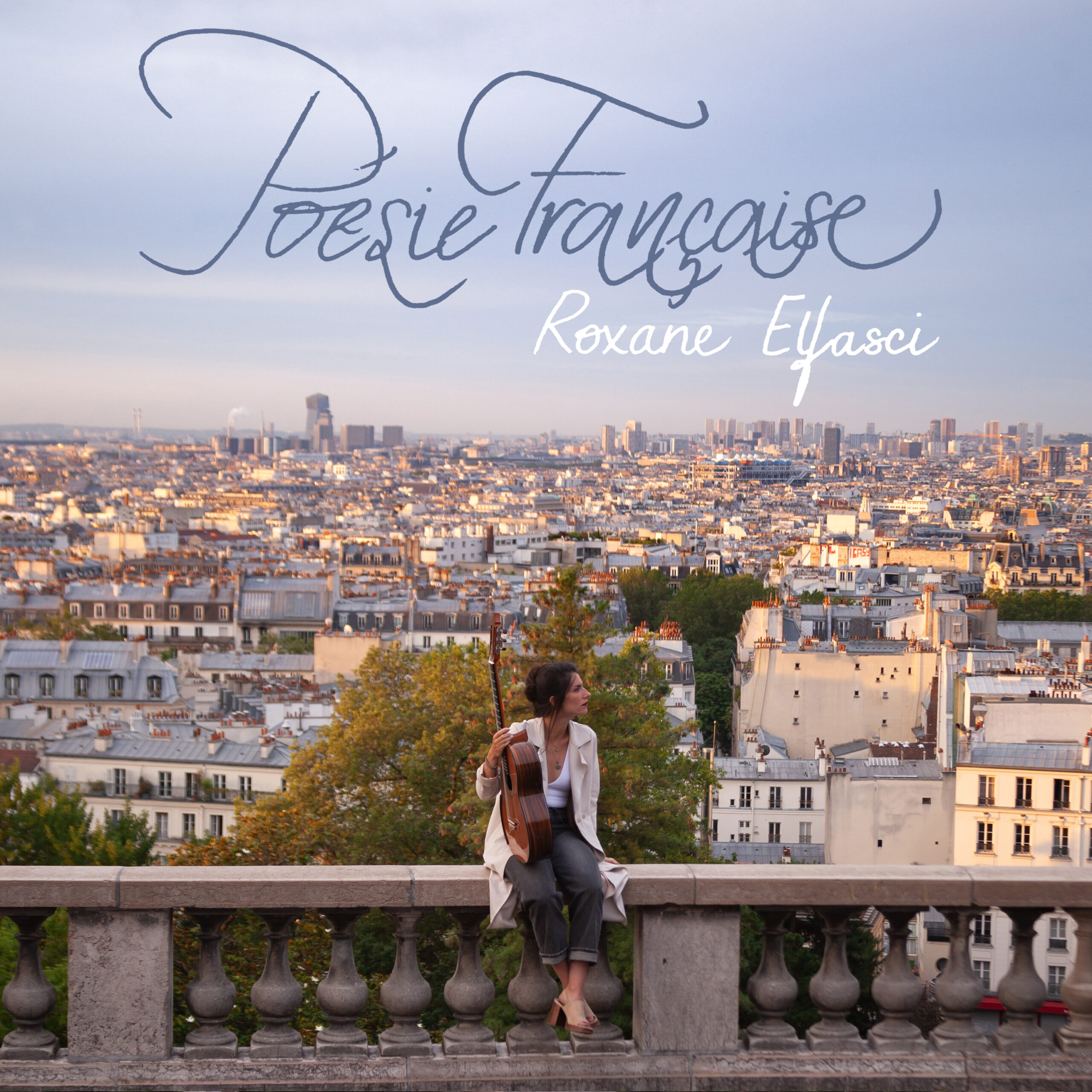 Poésie Française
Date and place of recording: May 2023 – Le Regard du Cygne, Paris
Musicians : Roxane Elfasci, Baptiste Erard
Sound engineer: Aurélien Bourgois
Videos: Hugo Warynski
As a great admirer and lover of French culture, from the literature of Victor Hugo, Émile Zola and Michel Tournier to the pictorial arts of Monet and Cézanne, as well as the history, gastronomy and landscapes of my native country, I love to celebrate the richness of this cultural heritage throughout music.
Two years after my first album Hommage à Debussy, I recorded a second album entitled Poésie Française. It features previously unpublished arrangements for guitar – in solo or duo – of major works from the turn of the 20th century: Saint-Saëns's Cygne, Debussy's Valse Romantique, Gabriel Fauré's Romances sans paroles and Erik Satie's Gymnopédie n°1 and Valse-Ballet. The album also includes a work originally written for guitar by Arnaud Dumont, Hommage à Ravel, as well as two arrangements by Roland Dyens of world-famous French songs: Edith Piaf's La Foule and Hymne à l'amour.
As a nod to this mosaic of French works, the album closes with a very peaceful version of La Marseillaise (arranged by Baden Powell): this hymn, a symbol of freedom, has been quoted across borders in the works of artists as diverse as Debussy, Satie, Stravinsky, Django Reinhardt and the Beatles.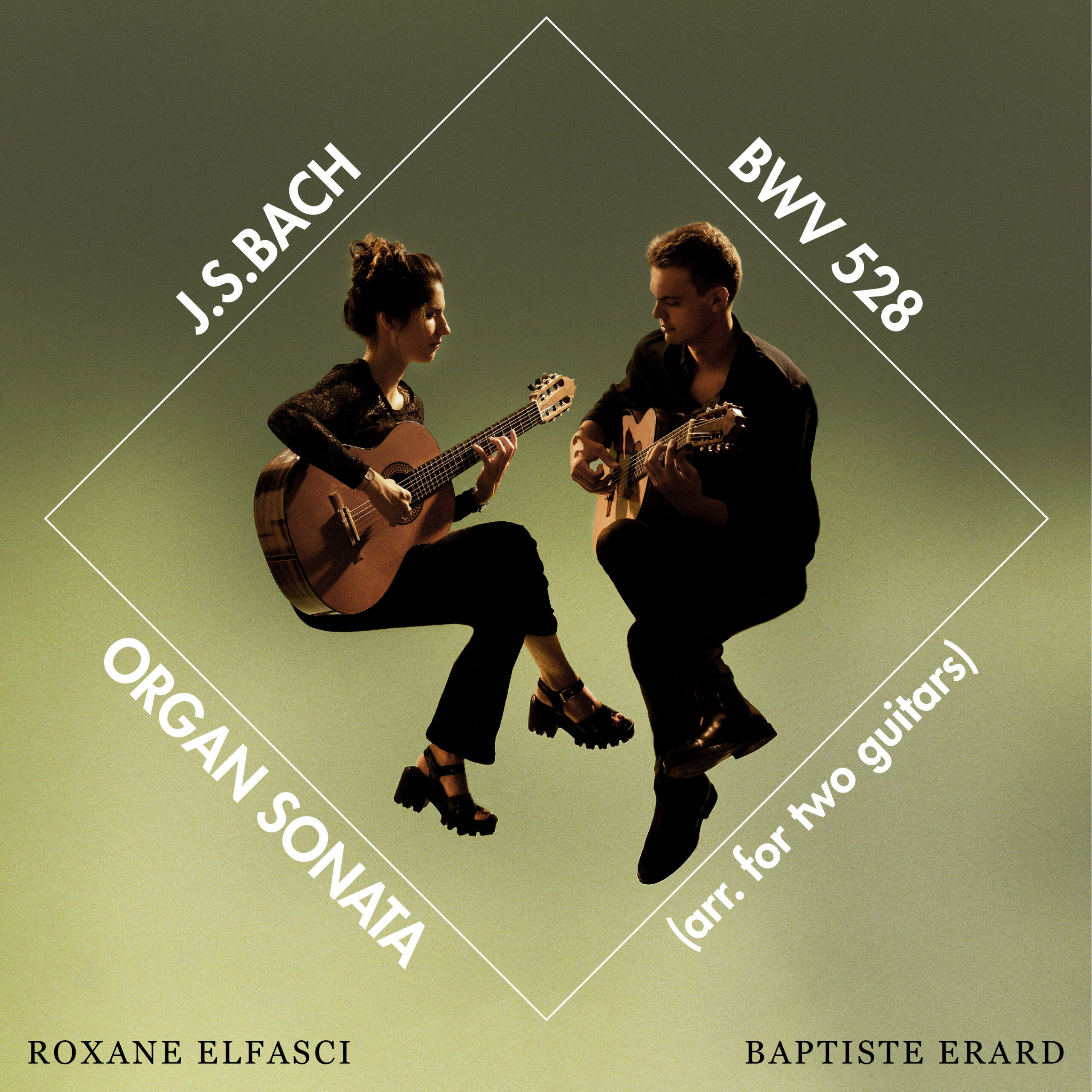 Bach Organ Sonata n°4:
Date and place of recording: January 2022 – Maladrerie Saint-Lazare, Beauvais
Musicians : Roxane Elfasci, Baptiste Erard
Sound engineer: Aurélien Bourgois
Videos : Hugo Warynski
Bach bequeathed us a total of six trio sonatas for organ (BWV 525 to 530). Each of them illustrates his exceptional melodic inventiveness, his unequalled mastery of counterpoint and his finger virtuosity as an organist. They are the fruit of Bach's deep love for the organ, this majestic instrument which summed up his values so well, whether spiritual – the organ being central in the expression of his Lutheran faith – or musical, because of the inexhaustible polyphonic resources offered by the instrument. In my opinion, however, a special strength emerges from Sonata No. 4 BWV 528, maybe due to its initial adagio which gives the first movement the solemn appearance of a French-style opening, or to the purity of the Andante which had moved me from the first time I listened to it, or else to the innocent joy of the third movement which brightens up the first two movements' gravity and melancholy.
They are called trio sonatas because they are written on three staves: two for each of the organist's hands, and the third – the bass line – played on a grounded keyboard, called a pedalboard, that the organist actions using his feet's heels and tips. In this arrangement for two guitars, the right hand of the keyboard has been assigned to guitar 1, the left hand of the piano to guitar 2, and the pedalboard's voice has been distributed between the two guitars, with respect for the logic of melodic continuity and technical feasibility. Finally, in order to get the perfect match with the tessitura of the guitar, the original score has been transposed to the lower major third.
I would like to warmly thank Baptiste Erard for his precious help, particularly in the arrangement of the third movement, as well as for all his ornamentation proposals. We worked on this sonata as a guitar duo while studying at the Pôle Supérieur of Paris Boulogne-Billancourt, taking advice from our eminent teachers Yves Henry, Pierre Roullier and Jérémy Jouve. The arrangement obviously grew out of this work, and evolved over our rehearsal sessions, our lessons and our common reflections. We recorded the complete sonata in January 2022 at the Maladrerie Saint-Lazare, in Beauvais. This recording, produced by Aurélien Bourgois, has been available since October 2022 on all music platforms.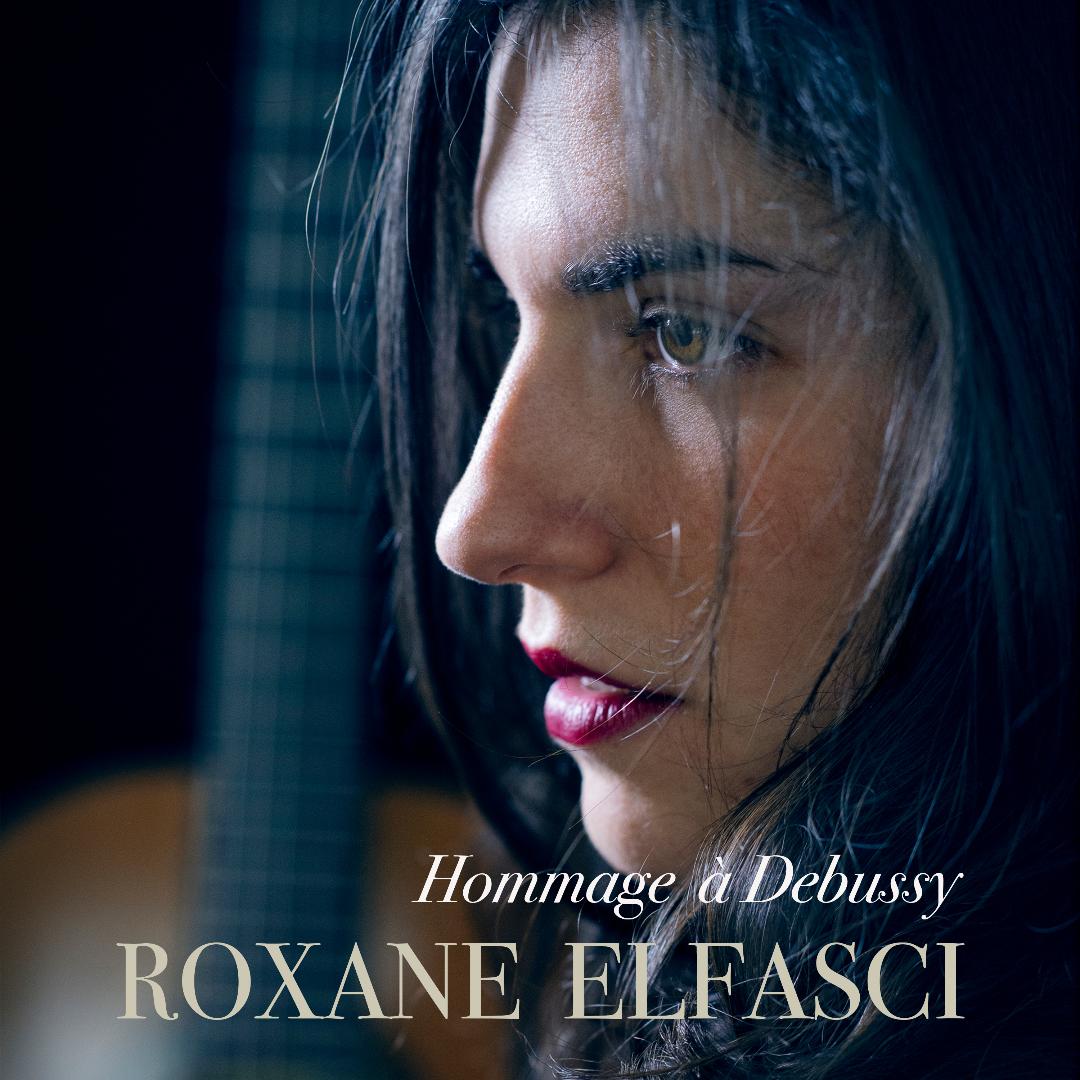 Hommage à Debussy
Date and place of recording: April 2021 – Conservatoire Auditorium, Paris
Musicians : Roxane Elfasci, Baptiste Erard, Sergio Santiago, Omar Nicho
Sound engineer : Aurélien Bourgois
Teaser : Alexis Gomart
Pictures : Aaron Elfasci
Debussy's music, full of delicacy and purity, has always been a great source of inspiration and peace for me. So it seemed to be obvious to devote my first album to him.
Although Debussy never wrote for guitar, the influence of the instrument can be heard in many of his works. The guitar, with its Hispanic accents and subtle impressionist colours, seems ideally suited to renew and re-enchant his music.
This album is divided in two parts:
The disc opens with a series of transcriptions of works composed by Debussy for the piano: Clair de Lune, Rêverie, Doctor Gradus ad Parnassum, the first Arabesque and Soirée dans Grenade. Each of these transcriptions has been designed to allow the guitar (in solo, duet or quartet) to rediscover the fluidity and natural resonances of the piano, while adding the richness of sonority and subtle colours characteristic of plucked strings. The album opens with a remastered version of Clair de Lune, recorded in 2016 which encountered a great success on YouTube with several million listeners.
The second part of the disc features pieces in tribute to Debussy composed by Manuel de Falla, Paul Dukas, Georges Migot and Philippe Lemaigre. The influence of Debussy's masterpieces can be heard in each of them: Manuel de Falla inserts a quotation from La Soirée dans Grenade at the end of his piece; Paul Dukas's mysterious piece is entirely built on the chromatic theme of the famous Prélude à l'après-midi d'un faune; Georges Migot's inspiration was nourished by Debussy's Préludes for piano; and there is an explicit reference to the Clair de Lune in Philippe Lemaigre's piece. This work concludes the album, like a gentle reminder of its opening.